Island-hopping cruises are a great way to explore multiple destinations in one trip.
These types of cruises provide a chance to visit multiple destinations in one trip and allow travellers to experience some of the best that each island has to offer. In this blog post, we'll discuss what to expect from an island hopping cruise, how they work, and share some recommendations on specific destinations that make great stops on your journey.
How Island Hopping Cruises Work
The beauty of these types of cruises is that they can be tailored to fit any budget and schedule. Typically, you will book a cabin on a ship that sails from one destination to another over several days or weeks, while arriving at various ports along the route. You can choose from different itineraries depending on which islands you want to see and how long you want your trip to take.
Most ships will stay at each port for one day before heading off again so that passengers can experience all the sights and sounds before moving onto the next destination. Depending on your destination, these stops may include anything from cities packed with culture and history to secluded beaches perfect for relaxing or exploring unique ecosystems like coral reefs or lush rainforest environments.
What to Expect from an Island-Hopping Cruise
An island-hopping cruise is a great way to relax while still having plenty of adventure. The itinerary will be packed with activities from morning until night so that you don't have to worry about having enough things to do. Many cruises offer special packages with activities such as snorkelling trips, beach days, kayaking tours, hiking excursions, and more included in the price. This allows you to easily explore each island without having to worry about booking extra activities or transportation. Additionally, all meals are usually included in the cost of your cruise package so there's no need to worry about finding food or restaurants when you arrive at each destination.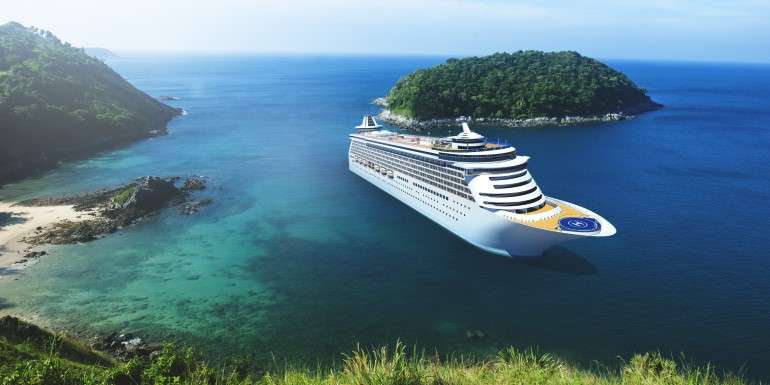 Recommendations on Destinations
If you're looking for inspiration on where exactly you should go for your island hopping cruise, here are some suggestions: The Caribbean is home to many stunning islands such as Barbados, Jamaica, Antigua & Barbuda, St Lucia, and Aruba; Southeast Asia offers Malaysia's Langkawi Islands; Indonesia's Komodo Islands; Thailand's Koh Samui; and the Philippines' Palawan Islands; While in Europe Greece's Cyclades Islands are always worth visiting; while further east Croatia's Dalmatian coast can't be missed; And if you're looking for something closer by why not try out our beautiful Pacific Islands, such as Fiji, Vanuatu or New Caledonia?
If you're looking for a classic Mediterranean experience then consider booking passage on an Eastern Mediterranean island hopping cruise which visits Turkey, Croatia, Italy, Greece, and other popular European ports. If exotic beaches are more your style then look into planning a South Pacific cruise which will take you through Australia and New Zealand while visiting some of the most picturesque islands in this part of the world like Tahiti or Tonga. For nature lovers seeking something different than tropical beaches then consider cruising through Norway where majestic fjords nestled between towering mountains provide breathtaking sights unlike anywhere else in Europe.
Convenient and Valuable Experience
Island-hopping cruises provide travelers with an opportunity to visit multiple locations without having to worry about lodging or meals since those expenses are already covered by the fare price. Whether it's experiencing culture in Europe or lounging around exotic beaches in South Pacific waters there is something for everyone when it comes to island hopping cruises! Be sure to research available options carefully so that you get the most out of your experience while travelling around some of our planet's most beautiful locations!
No matter which destinations you choose for your island-hopping cruise there is sure to be something exciting waiting around every corner! From snorkelling trips in crystal clear waters off Barbados' shores and exploring exotic wildlife in Komodo National Park in Indonesia—to discovering ancient ruins on Mediterranean shores near Santorini in Greece—there's no shortage of amazing experiences awaiting those who embark on an island-hopping voyage! So what are you waiting for? Pack your bags today and start planning your ultimate vacation experience!